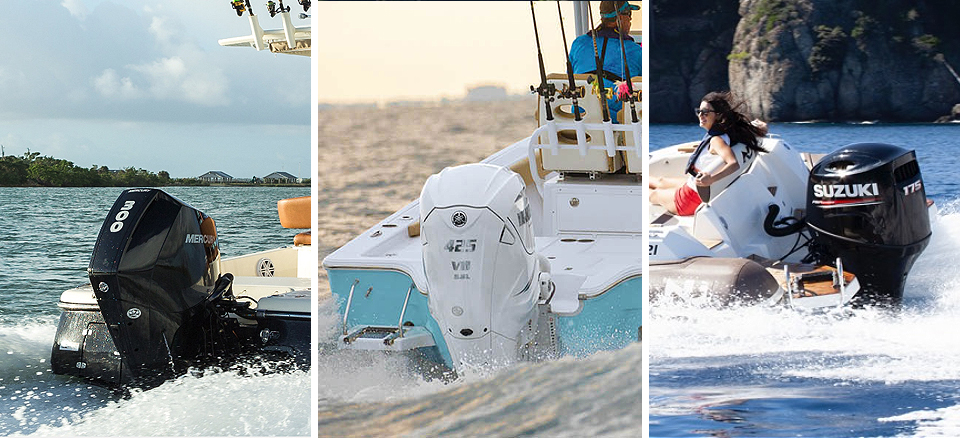 Outboard Engines For Sale
Florida's Family Marine is excited to announce our complete line of new outboard motors for Mercury, Suzuki, and Yamaha boats! These motors are jam-packed with premium features and state-of-the-art technology with the thrust and performance you need on the water for fishing, recreation, and water sports competitions. Here are some of its most popular features:
fuel injection for better economy and power
electronic ignition for precise timing and easier starting
through-the-prop exhaust for a quieter ride
and more!
Stop by Florida's Family Marine in DeLand, FL, today to check out Volusia County's best selection of new outboard motors for sale. We're here to help you find the perfect engine for your boat.
Mercury Motors
With more than 75 years of manufacturing excellence, Mercury Marine's outboard motors are some of the industry's most reliable and efficient engines. Robust yet lightweight, they are excellent motors for any boating experience. So, whether you're looking for a motor for your fishing boat or even a yacht, Mercury Marine has an engine that's a perfect fit for discerning boaters and captains who demand the best.
Suzuki Motors
Suzuki Outboard Motors are one of the most popular brands of outboard motors in boating today, known for reliability and performance. They are built for recreational and commercial use. So when you're looking for a small outboard motor for your recreational watercraft or need more horsepower for a commercial fishing boat, Suzuki has an engine that will meet your boating needs on area lakes, The Intracoastal Waterway, or even the Atlantic Ocean!
Yamaha Motors
Yamaha has a long history of innovation and excellence in the outboard motor industry, recognized for their performance and quality. Whether cruising, fishing, or yachting, they are ideal for many boating activities. Yamaha motors are available in various horsepower models with features that suit many boating needs. So, when you're looking for a small motor to get around the lake or a heavy-duty engine for offshore fishing, Yamaha is built for you.
Outboard Motor Repairs in DeLand
At Florida's Family Marine, our factory-trained technicians are highly skilled experts for all outboard motor repairs; we handle it all, from simple tune-ups to complex repairs. We repair outboard engines from Mercury, Suzuki, Yamaha, and other leading manufacturers. We know that your outboard motor is a vital part of your boat, and we work quickly and efficiently, so you can enjoy taking your boat out on the water again.
In addition to our excellent repair services, we also offer competitive pricing on new outboard engines for sale, and our dealership stocks a wide range of parts and accessories.
For more information about the Outboard Motors we have for sale, or to inquire about Outboard Motor Repairs, please contact us at 386-873-4610. Florida's Family Marine proudly serves recreational and commercial boaters throughout Volusia County, including Daytona Beach, DeBary, Deltona, Edgewater, Lake Helen, New Smyrna Beach, Orange City, and Ormond Beach, FL. Welcome to our family!